Marshall County Sheriff's Office Reserve Deputy-K9 Receives AKC Title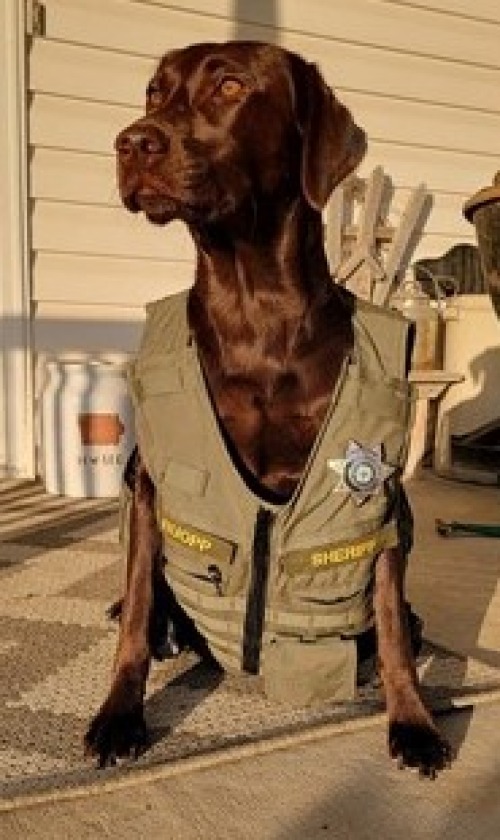 December 12, 2022 at 3:11 pm
The American Kennel Club (AKC) announced in November 2022, they have started a new program to honor dogs that work for government agencies to keep our communities safe. To qualify for this title, the K9 must have worked for a minimum of two years and received a minimum of two certifications in its discipline through the United States Police Canine Association (USPCA). AKC offers three titles to help recognize the accomplishments of our outstanding dogs that excel in three different areas:
Public Service Detection Dog (PSDD) - A detection dog that is trained to locate and alert to an illegal substance or a substance which is illegal to possess.
Patrol Dog (PSPD) - a patrol dog that is trained in criminal apprehension, human scent detection, obedience and evidence detection.
Tracking Dog (PSTD) - a tracking dog is trained to detect and follow the scent of a specific person to locate that person or evidence related to that person.
Public service dogs utilize the instincts, drive and temperament as a means for keeping our communities safe.
Marshall County K9 Queen Elizabeth, more accurately known as Lizzy, was awarded the PSDD, so she is now known as Queen Elizabeth, PSDD. But as fancy as the title is, Lizzy is simply a cute tool used by the Marshall County Sheriffs office to locate and alert to illegal narcotics like methamphetamine, heroin, fentanyl and cocaine. Lizzy, handled by MCSO Reserve Deputy Melinda Ruopp, is available to assist the Sheriffs office as well as the Mid Iowa Drug Task Force in their fight against illegal narcotics in our community. There is plenty of work to do, Lizzy and Ruopp keep busy helping out as they are needed.
K9 Lizzy recently certified through the USPCA and achieved the highest points possible, a perfect score of 200.
For more information on the Marshall County K9 Program, contact Det./Sgt James Gibson.
About Marshall County Sheriff's Office
The Marshall County, Iowa Sheriff's Office is led by Sheriff Joel Phillips. Sheriff Phillips is committed to keeping communities and neighborhoods safe in Marshall County.
More News